Town and Country Veterinary Clinic is a full service mixed animal clinic in the rural setting of Silver City, New Mexico. We are pleased to offer our patients the following services:
Appointments
Our pet care team will attempt to accommodate all requests to the best of our ability. While appointments are encouraged, we understand that emergencies arise and will be accepted anytime our clinic is open. If you feel you have an emergency with your pet, please call us or come to the hospital immediately.
Emergency and Urgent Care
We have a veterinarian and personnel on duty 5 days a week who are trained and equipped to handle any urgent care which may arise with your pet. Emergencies can be things such as hit by car, and chocolate or poison ingestion. If you ever feel that your pet needs emergency treatment do not hesitate to call or come in immediately. If possible it is best to call before coming in so that a staff member can advise you on your particular emergency.
We are also available for urgent care when the condition is not life-threatening, but you feel your pet needs to be seen before you are able to get an appointment, our staff will work to "squeeze" you in between scheduled appointments. When you arrive, we will be able to give you an estimate on how long you may have to wait in order to be seen.
After hours emergency service is also available. You will be directed about specifics upon calling our regular contact number, (575)538-3700, after hours.
Laboratory and Diagnostic Testing
We offer in-house Blood Counts, Serum Chemistry, Urinalysis, Blood Clotting Time tests, also Heartworm, Giardia, Pancreatic Lipase test, Parvo, Thyroid Profiles, Feline Leukemia and Immunodeficiency Virus tests, and Fecal Exams. We work closely with off-site diagnostic labs where additional tests can be sent out with quick result times.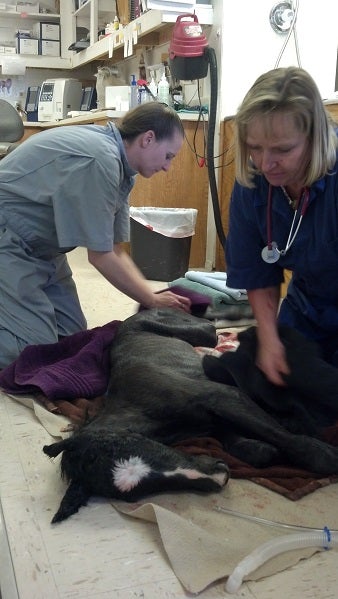 Surgery
Surgeries offered range from routine Spays, and Neuters, to the repair of multiple soft tissue conditions including but not limited to removal of internal and external cancerous and non-cancerous growths, as well as the repair of traumatic wounds.
Orthopedics
Dr. Brown has 27 years of experience in the diagnosis and treatment of skeletal disorders ranging from fixation and stabilization of fractures to the repair of ruptured cranial cruciate ligaments, luxating patella, and limb amputation when necessary. Cold laser therapy is provided in our hospital to aid in the rapid recovery of orthopedic cases.
Dental Care
Routine dental care is offered with cleaning and polishing and extraction of bad teeth if necessary.
Equine Chiropractic
Dr. Brown is trained in and has been performing Chiropractic adjustments on horses with positive performance outcomes. Chiropractic services paired with full knowledge of overall equine health are a good combination for diagnosis and treatment of your equine companion.